a new fanfiction adventure from coco1997 & tdalton
An urban legend come to life.
A sultry fortune teller who knows everyone's secrets.
A beautiful musician.
A city on the brink of chaos.
James Bond finds himself in the middle of all of this in his last mission as a Double-oh.
Bond has turned 45 and faces mandatory retirement from Her Majesty's Secret Service.
M has tasked him with one final assignment:
Go to New Orleans and identify the body of a fallen colleague.
A seemingly easy assignment pits Bond against some of the toughest foes he's ever
encountered in this re-imagining of Live and Let Die.
A WHISPER OF LOVE, A WHISPER OF HATE will be delivered to CBn as a serialized effort. We aim to post at least one chapter a week over the course of the summer.
This work of fanfiction is a project that has been long in the making. It developed out of PM discussions that occurred towards the end of the 'Ultimate Bond' fanfiction game that ran here a few years ago. Originally planned as part of a larger series of stories in which we radically re-imagined the events of several of Ian Fleming's novels and EON's films, this project ultimately ended up being a standalone story that we wanted to put out first.
Basically what we set out to do was to craft an original story that re-imagined the characters of both the novel and film LIVE AND LET DIE. There are echoes of the stories of both the film and the novel, such as the use of New Orleans and San Monique as the primary settings, as well as the idea of a hidden treasure being used to fund villainous activities. Ultimately what this story aspires to be, however, is a Bond story that delves into genres that the Bond films and novels often don't. There are horror elements to the story, as well as elements of the action, romance, music, and political thriller genres.
As an appetizer of sorts, meet part of the main cast of A WHISPER OF LOVE, A WHISPER OF HATE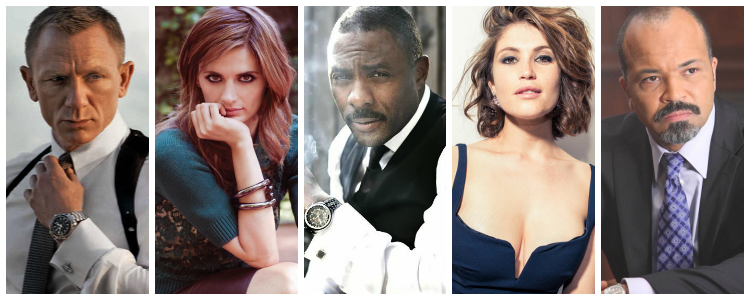 (from left to right)
JAMES BOND: Soon-to-be retired agent of the Double-oh Section.
GRACE MOREAU: A well-known local musician who develops political ambition and a major interest in Bond.
BUONAPARTE IGNACE GALLIA: A powerful crime boss who once ruled New Orleans' criminal underworld with an iron fist. He was thought to be deceased following a violent encounter with law enforcement, but a body was never produced. He now exists primarily as an urban legend of sorts.
SIMONE LATRELLE: A gifted businesswoman and philanthropist who is also a fortune teller. Trained in voodoo and various other such things, she is thought to be nearly omniscient.
FELIX LEITER: Bond's good friend who now resides in New Orleans.
It also goes without saying, this is a work of fanfiction. Certain characters and some other elements found in the story were created by either Ian Fleming or EON Productions. No copyright infringement is intended, as this is primarily meant as an appreciation of the works created by both Ian Fleming and EON Productions, and no monetary gain whatsoever is gained through this work.