How rude! I never asked for the line to be changed - don't think anyone came close to suggesting any such thing. I was, in the post you quoted, merely responding to the suggestion that I had 'missed the point'. That's about my text, not yours, and I don't think it's unreasonable to respond.

I'm rude?
We were told that the bungee sequence from the original film was eschewed because it was more or less a product of its time when bungee jumping was still a popular sport.


This strikes me as a ridiculous reason. That moment still gets gasps when you show it. (But then calling a gadget-laden wristwatch 'antiquated' makes little sense to me either.)

I have no problem with constructive criticism but nitpicking about certain trivial aspects of the report such as the comment about my choice of the word "antiquated" is a tad irritating. I wasn't calling wristwatches in general "antiquated," I was simply referring to Bond's watch in
GoldenEye
for N64.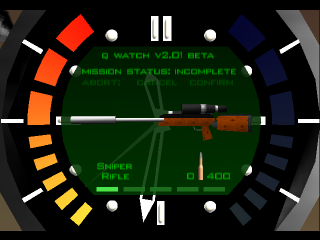 Look! It was sleek and modern looking back in 1997 but compared to Bond's smartphone in Activision's new game,
it is
antiquated. That's all I was trying to convey but since you were too busy scouring the report for "errors," you missed the point I was trying to make.
Why am I comparing a wristwatch to a smartphone, you ask? Well, it's because both gadgets perform similar functions in their respective games therefore a comparison is warranted. This is explained in the report.
So, how about Blood Stone?



What ensues is a non-stop, wall-to-wall action sequence that follows Bond from air, to sea and finally, to land.


Watching this video I couldn't shake the feeling of how flat and generic the whole thing felt. Graphically it seemed dated - though maybe that's just the web video, and the lighting and textures will be better by time of release - and the action seems a long way from the kind of immediate-feeling, unique style one gets from the best FPS games these days. Zero tension, too. Not sure we won't be getting the same, predictable enemy AI, either.

Unless you were at this event or are employed by Activision, I highly doubt you've seen the demo footage we saw.